Second Generation Camaro Owners Group
NastyZ28.Com Wearing Apparel!

NastyZ28.com has professionally designed, produced and delivered the most unique and spectacular Camaro shirts around since 2001. These awesome high quality shirts are a hit wherever they go. All t-shirts with the exception of the Ladies-T are printed double-sided, with a full size design on the rear, and the V4 (Version 4) design on the chest.

NOW OFFERING V4E COLORS! - (Green, red, maroon, yellow & orange) CLICK HERE FOR MORE INFO

The V4 shirt itself is available in either ash gray or "Tone-on-Tone" with the primary graphic being either an Early (V4E), Mid-decade (V4M) or late style (V4L) 2nd Gen Camaro. This is done so we can cater to every members specific taste in car style. This makes a total of 6 design/color choices for V4. The tone shirt is a subtle but bold reverse design of the ash gray style shirt. It's offered because it's not only totally cool - but some folks wanted something other than gray to wear. For a limited time we're offering the V4 design in Pull-over hoodies, long-sleeve T's, ladies-T's and Baseball jerseys.
The V5 shirt features a multi-color collage on back with one of the V4 design chest logos on front.
For a more formal setting, we offer several polo shirts with your choice of V4 design on the chest. We offer white screen printed Polos, along with embroidered polos available in either white or black.
See notes below order form for additional ordering info, apparel specifics (description, weight, etc...) along with information about EMBROIDERED shirts & hats
NastyZ28.com Club Apparel Order Form
(click image to view full size)

T-Shirt
V4E - Blue logo - Ash Gray


V4M - Red logo - Ash Gray


V4L- Black logo - Ash Gray


V5 Club TShirt - Black


Pullover Hoodie
(Ash Gray)
View Shirt

Long Sleeve
(Ash Gray)
Baseball Jersey
(dark gray)
View Shirt

View Shirt

Ladies-T (white)
Chest Only
View Shirt

T-Shirt
V4E - tone on tone


V4M - tone on tone


V4L - tone on tone


Long Sleeve
(Black)
Ladies-T (Black)
Chest Only
Polo Shirt
White
V4E - Polo


V4M - Polo


V4L - Polo



V4E - COLORS!!!
(click image to view full size)

| | | | | | |
| --- | --- | --- | --- | --- | --- |
| | V4E - Red logo - Ash Gray | V4E - Orange logo - Ash Gray | V4E- Yellow logo - Ash Gray | V4E - Green logo - Ash Gray | V4E - Maroon logo - Ash Gray |
| T-Shirt | | | | | |
| | V4E - Red on Red | V4E - Orange on Orange | V4E- Yellow on Yellow | V4E - Green on Green | V4E - Maroon on Maroon |
| T-Shirt | | | | | |
| | |
| --- | --- |
| Canadian Shipment Surcharge: $6.50 | Foreign Shipment Surcharge: $15.00 |


Credit Cards & E-checks Accepted via paypal. "Send Money" to [email protected]
Questions or Comments? Send email to MadMike.

Order Electronically: Add to cart, then "view cart" to checkout and complete your order or continue shopping!
Online ordering is in US Dollars!
Click the Canadian surcharge button if shipping to Canada.
Click the Foreign surcharge button if shipping outside of USA/Canada


We don't just slap our logo on a cheap shirt. Folks are still proudly wearing our V1, V2 and V3 design shirts from 10 years ago. There's a lot of value for the money.

These shirts are produced in the same facility that produces apparel for a nation-wide restraunt chain, several major rock bands, a well known talk show personality (with the initials of GB) and a nationally known "red-neck" organization. The same attention and care that produces those items produces our stuff. It's done right.
Fantastic V4 Tone-on-Tone and a color logo design (6 V4 designs total)
V4 T-Shirt prints with chest logo on front and full size design on back.
Tone on Tone prints on color depicted (blue, red or charcoal).
Color logo T-Shirt print on ash (light gray) color shirt.
Polo shirt is available in WHITE only. (N/A with Tone on Tone or V5 design)
V4E Design is now being offered in multiple colors
V1, V2 & V3 designs are obsolete and no longer stocked
V4 logo is available embroidered on Polo Shirts & Hats
EMAIL ME as embroidery is done on request. Polo shirts are black or white. Logo is either sewn in red or blue. Other options available.

T-shirts
Tshirt: Gildan 2000 Ultra Cotton T-shirt, 6.1oz. 100% preshrunk cotton double-needle stitching, seamless collar.


Polos
8800 - Ultra Blend 50/50 Jersey Sport Shirt 5.6oz


What's this "E", "M" & "L"? Early, Mid & Late. Early is a 1971 Camaro. Midyear is a 1974 Camaro and Late is a 1980 Camaro. These variations allow us to cater to all Second Generation Camaro owners.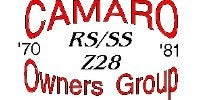 Return to Store
Quality Since: 3/29/2001
This artwork and the Club names are
© 1997 - 2014 NastyZ28.com (tm)