Second Generation Camaro Owners Group
RPO Option Information

This page itemizes and elaborates on the specific contents of the various RPO (regular production option) codes that were used over the years. It shows evolution of options or will link to the specific details for that option. In addition, it will also elaborate on the Camaro models. Many options were packaged together and offered as standard equipment on various upgraded Camaro models.
Information is taken from Dealer Order Guides which publicizes the information as it was intended to be offered. Options changed or were altered slightly throughout time. See the yearly Camaro information for specific option availability, cost (msrp) and production quantity for whatever year you're interested in.
Note: RPO table includes forced or "non-orderable" RPO's like springs and emissions equipment. Springs have an RPO code on them but they are not ordered like a console would be. These codes would typically be found on a build sheet.
AK1 - BELT - Seats & front shoulder harness - deluxe
AN6 - Adjustable Seat Back, driver side
AS4 - Belts, custom deluxe rear shoulder
AS6 - Harness - Front Shoulder (delete, export) 1974
AU3 - Power Door Locks
AV6 - Ignition Interlock System (delete, export) 1974
AV9 - SEAT Requirements - Export
A01 - Soft Ray Tinted Glass, all windows
A02 - GLASS, tinted windshield
A26 - GLASS - United Kingdom Glazing (Export)
A31 - Power Windows

A48 - Belts - Seat (delete, export)
A51 - Bucket Seat (standard equipment)

BS1 - Body Insulation
BW1 - Delete Deck Lid Emblem
B18 - Ornamentation - Interior - Deluxe
B37 - Floor Mats, color-keyed front and rear
B77 - Ornamentation - Front Reveal Molding (Z28)
B80 - Molding - Roof Drip
B81 - Ornamentation - Body Side (delete)
B83 - RCKR SPR MLDG
B84 - Molding - Body Side
B85 - Molding - Belt Reveal
B89 - Ornamentation - Reveal Molding (Z28)
B93 - Molding - Door Edge
B94 - Exterior Ornament (z28)
B95 - Molding - Rear End Panel
B97 - Rear wheel spoiler (z28)
CB7 - Cover, Roof, Soft Trim - Front
C08 - Vinyl Roof Cover
C09 - Roof Cover Trim - soft exterior

CC1 - Roof Panels, removable glass

CD4 - Windshield Wipers, intermittent
C24 - Windshield wipers, hide-away
C49 - Defogger, rear window (grid type)
C50 - Defroster, rear window (forced air)
C60 - Air Conditioning
C80 - RH DR JAM S
D31 - Tilt RV MIRR
D34 - Mirror, visor vanity
D35 - Mirrors, sport right and left remote exterior
D55 - Console
D60 - Non-Recommended Color Combination
D80 - Spoiler, rear
D88 - Z28 Stripes
D92 - Tape - Door Handle Decor
D98 - Stripe - Rally
D1A - D1D - Gear - Speedometer, Driven
E1C Adapter - Speedometer Gear
E5Z Less Adapter - Speedometer Gear
E6E - E6F - Sleeve - Speedometer Gear
E9Z Less Key - Speedometer Gear
F41 - Suspension, Special Performance Front & Rear
6AF - 6MF - Spring - Front LH
7AF - 7MF - Spring - Front RH
GM8: Axle - Rear (2.56 Ratio)
GT4: Axle - Rear (3.73 Ratio)
GU2: Axle - Rear (2.73 Ratio)
GU4: Axle - Rear (3.08 Ratio)
GU6: Axle - Rear (3.42 Ratio)
G80 - Rear Axle, limited slip
G92 - Rear Axle, high altitude ratio (1975 - 1977)
G92 - Rear Axle, performance ratio (1978 - 1981)
8LB - 8YP - Spring - Rear LH
9LB - 9YP - Spring - Rear RH
JL6 - Brakes - Manual
J50 - Power Brakes (included with Z28)
J52 - Front disc brakes (standard equipment)
K03 - Fan - Flex Engine
K05 - Engine Block Heater
K19 - Reactor System - Air Injection
K30 - Speed Control, cruise master
K76 - 61 Amp Alternator
K77 - 55 Amp Alternator

"L" - commonly used for Engine RPO's. See General Engine info, or yearly Camaro info for specifics on these RPO's.
LC3 - Engine, "229" CID, 3.8L, 2BBL, V6 (1980 - 1981)
LD5 - Engine, "231" CID, 3.8L, 2BBL, V6 (1980 - 1981)
LG3 - Engine, 305ci, 145 hp 2 BBL, V8 (1976 - 1979)
LG4 - Engine, 305ci, 155 hp 4BBL, V8 (1980 - 1981)
LM1 - Engine, 350ci, 190 hp V8 (required Z28 beginning in 1980)
LS3 - Engine, 300 hp, 396ci Turbo-jet V8 (1971 & 1972, SS Only)
LT1 - Engine, 350ci, 255-360hp V8 (1970 - 1972 Z28 Only)
LU8 - Engine, "301" CID, 4.9L - turbo charged (dropped before going into production)
L22 - 6 Cylinder Engine, 250 CID (base engine)
L34 - Engine, 396ci, 350hp Turbo-jet V8 (1970 - SS Only)
L39 - Engine, 267ci, 120hp, 4.4L, V8 (NA w/ YF5 cal emissions)
L48 - V8 Engine, 350 CID
L65 - Engine, 245hp, 350ci Turbo-Fire V8
L78 - Engine, 396ci, 375hp Turbo-jet V8 (1970 - SS Only)
L82 - Engine, 350ci, 245hp V8 (1973 & 1974 Z28 Only)

"M" - commonly used for Transmission RPO's. See General Transmission info, or yearly Camaro info for specifics on these RPO's.
M15 - Transmission, 3-speed manual (standard on base models)
M20 - Transmission, 4-speed wide range
M21 - Transmission, 4-speed close ratio
M22 - Transmission, 4-speed heavy-duty close ratio (1970 - 1972)
M33 - Transmission - 3 Speed Automatic, TH200 (req LC3, V6)
M35 - Transmission, Powerglide automatic (1970 - 1972)
M38 - 3-speed automatic transmission, 300 deluxe
M38 - Transmission, 3spd automatic, TH350
M40 - Transmission, Turbo Hydra-Matic automatic, TH400
MM4 - Transmission, 4-speed wide range

NA5 - Emission System, Federal
NA6 - Emission Control, High Altitude
NA9 - Emission Control, required for California
NB1 - Emission Control, Closed Loop
NB2 - Emission Control, Mandatory California
NK2 - Steering Wheel, custom black
NK4 - Steering Wheel, sport four spoke black
N10 - Dual Exhaust - (forced option on some models)
N33 - Tilt Steering Column
N40 - Power Steering
N65 - Spare Tire, Space-Saver

N90 - Wheels, aluminum
PE1 - Wheels, custom-style, 14 x 7"
P01 - Wheel Covers, bright metal
P06 - Wheel Trim Ring (std. on Z28)

Q** - Tires, see tire usage chart.
TR9 - Lighting, auxiliary lamp group
T59 - Conventional Battery
T60 - Battery, heavy duty
T63 - Headlamp warn buzzer
T70 - Headlamps - Special, Export
T89 - Lamp Assembly - Tail & Stop, Export
T90 - Lamps - Rear End, Export, (amber/red lenses swapped)
T93 - Special tail lamp (Z28 only, has black stripe through center of lense)
UA1 - Battery, heavy-duty

"U" - commonly used for radio equipment (and other electrical) RPO's. See Radio Equipment info for specifics on the radio RPO's.
UM1 - Radio, AM with stereo tape
UM2 - Radio, AM-FM with stereo tape
UN3 - Radio, AM-FM with stereo cassette
UN9 - Radio, Suppression Equipment
UP5 - Radio, AM-FM (Mono) with CB and power antenna
UP6 - Radio, AM-FM stereo CB and power antenna
UP7 - Radio Provisions - monaural
UP8 - Radio Provisions - Stereo
UY8 - Radio, AM-FM stereo with digital clock

U05 - Horns, dual
U14 - Special Instrumentation
U18 - Speedometer - export
U25 - Lamp, Luggage Compartment
U26 - Lamp, Under Hood
U27 - Lamp, I/P Compartment
U28 - Lamp, Ash Tray
U29 - Lamp, Courtesy
U35 - Clock, electric

U58 - Radio, AM-FM stereo
U63 - Radio, AM - push button
U69 - Radio, AM/FM - push button
U75 - Antenna, power
U76 - Antenna, windshield type
U80 - Speaker, rear seat - (requires U63 or U69)
U83 - Antenna, Power (AM/FM/CB)

V01 - Radiator, heavy-duty
V08 - Cooling, heavy-duty
V30 - Bumper Guards, front and rear
V48 - Engine coolant (Increased protection/anti-freeze)
V78 - Plate, Less Certificate of Compliance (export)
V92 - Inflator - stowaway spare tire (delete) - export
V97 - Export Preparation
VE1 - Extension - Rear End Panel (delete for japan), this was the unpublished option used to remove the rear spoiler from a late 70's Z28.
VF3 - Bumpers, deluxe front and rear
VJ9 - Emission Compliance Info - California
VK3 - Mounting, Front License Plate
W84 - Additional fuel for delivery (hey thanks)
YA6 - Body Co Override (California)
YA7 - Emission Test, required for California
YD1 - Axle, trailering ratio
YF5 - Emission Equipment, required for California
YF6 - Processing (California)
YJ8 - Aluminum Wheel (1978 - 1979)
YR1 Seat - Front Custom
Y02 - Custom Front Seat
Y03 - Custom Rear Seat
Y10 - Custom Trim
ZJ4 - Trailer Towing Package, (a slick method to put lower gears into a base model car)
ZJ7 - Rally Wheels
ZJ9 - Auxiliary Lighting Group (includes Courtesy, glove box, luggage, underhood and ash tray lights
ZK8 - Tire Pressure decal
ZL3 - Super Sport body conversion
ZP2 - Exterior/Interior Override
ZP3 - Special Paint
ZP5 - Appearance Guard Group (Includes B93, B37, D34)
ZP8 - Trim - Special
ZQ2 - Operating Convenience Group (Includes U35, D35, C50)
ZQ7 - Canadian equipment (Warranty booklet and misc documentation)
ZQ9 - Axle, performance ratio (4.10:1) (requires G80 & L78 or Z28)
ZR7 - Factory Pre-Delivery & Service
ZV1 - Statement of Origin - Manufacturer
ZW7 - Certified Paint

Z08 - Sports Decor: Includes body colored mirros, body colored insert on door handles, and a body color vinyl applique on the lower front and rear bumpers. Available on any model Camaro. (1975)
Z12 - Gear - Speedometer Driven Fitting & Adapter

Z21 - Style Trim Group: Includes body colored insert on door handles; bright roof drip, lock pillar, upper fender, hood panel and belt mouldings plus bright accented parking lights. (1970 - 1981)
Z22 - Rally Sport Package
Z23 - Interior Accent Group: Includes glove compartment light, additional instrument cluster lighting, wood grained accents on instrument cluster and steering wheel (included in Custom Interior option) - 1970 - 72.
Z27 - Super Sport Package

Z28 - Special Performance Package
Z49 - Canadian Equipment
Z54 - Interior Decor and Quiet Sound Package: Includes glove compartment light and additional instrument cluster lighting; woodgrain accents on instrument cluster; special engine compartment, hood and interior insulation (Standard with Type LT) (1973 - 1981)
Z85 - Sport Package: Rally Sport Tape & Paint appearance package (1975 - 1981)

Z86 - gymkhana suspension (1975) Includes 15x7" wheels with bright lugnuts, special center caps and trim rings, E60 x 15 white letter tires, special front and rear swaybars, shocks and steering gear. V8 engine required. (sounds like an alternative to what was formerly available with Z28, and/or some positioning between future suspension packages - Z86, FE8 or F41... They apparently went with F41 and junked this package - Gymkhana??)
Z87 - Custom Interior: Includes: deluxe seat and sidewall trim, glove compartment light, additional instrument cluster lighting, wood grain accents on instrument cluster, steering wheel and door panels, luggage compartment mat, special engine, hood and interior insulation
Z94 - Converter, Mandatory Canadian


Build Sheet
This is what a build sheet looks like. Not all cars have them. It will identify exactly how a particular car was to be built and equipped. On the top are the component codes and on the bottom of the sheet are the RPO codes my 1980 Z28 was equipped with. More information about build sheets in general can be found here.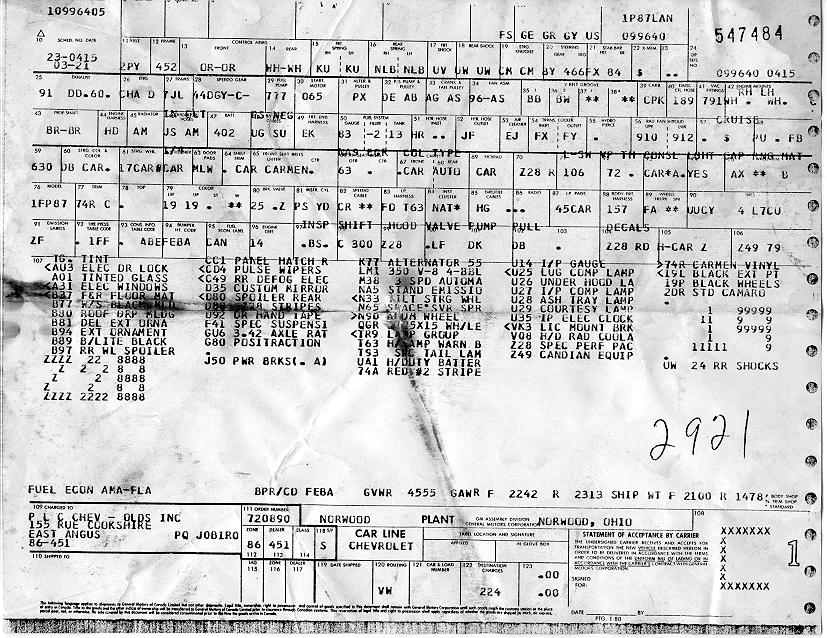 Camaro Model Information
This information is generalized. See the yearly camaro information for specific contents.

A model is a specific base equipment package and that will be coded into the VIN. Generally, the Camaro was available in 2 models - a 6 cylinder coupe, or a V8 coupe. Beginning in 1973, the Type LT Camaro (and then the Berlinetta) had a unique model identification. Super Sports, & Z28's are OPTIONS ON THE BASE V8 COUPE. Beginning in 1972 (but ending in 1977) the VIN's engine code will give away this information. Otherwise the car will simply code out as a Base V8 coupe. The RS was available on either a 6 or 8 cylinder Camaro and again, the car will decode as a base model (or type LT). The Engine VIN code "ends" in 1977 because not all 350 (vin code L) Camaros in 1977 were Z28's.

Base Coupe - The minimum model was a base coupe. It had the base engine, 4 wheels & tires, seats and a steering wheel. Bare bones, no options, just standard equipment for the year in question.

>From this starting point, you could select whatever optional equipment you desired.

Super Sport - The Super Sport (or "SS") Camaro was not a model, it was an option code (Z27) which usually placed performance engine & suspension equipment onto the car along with a fair amount of exterior trim. This option ran from 1970 to 1972. The ONLY way to obtain a big block Camaro was to order the Super Sport option package. However, not all SS's were big blocks. The base engine on the SS was the potent 4 barrel 350. If you wanted a big-block you had to order the SS option and then select the optional 396 as well. The SS option could not be ordered with the Z28 option.

Type LT - LT stood for "Luxury Touring". It replaced the Super Sport option in 1973 and was considered a high end or fancy Camaro. It generally put an upgraded interior into the car, instrumentation, dual sport mirrors and rally wheels. The LT ran from 1973 to 1978 and was replaced by the Berlinetta. The Type LT could be combined with the Z28 option in 1973 & 1974 making a "Type LT/Z28". The Type LT badging would trump the Z28 identification.

Berlinetta - The Berlinetta was introduced in 1979 and ran to 1981. It is a high end version of the Camaro with many fancy options included as standard equipment. It was not combinable with the Z28.

Rally Sport - From 1970 to 1973 the rally sport (RPO Z22) was offered as an appearance package. This was the "split bumper" nose treatment and was available on ANY camaro model.
Detailed Rally Sport information can be found here.

In 1975 the Rally Sport re-appeared as a paint & trim package with a distinct 2 tone paint job, rally wheels, dual sport mirrors and rear spoiler.

Z28 - This was the high performance version of the Camaro. Z28 was the "special equipment package". In the early years, savey performance buyers would simply ask for this version of the camaro by it's RPO name - "Z28", so chevy called the performance car the "Z28". It ran from 1970 to 1974. It was dropped in 1975 & 1976 and returned in February 1977 and continued to 1981. The Special Performance Package consisted of a unique to the Z28 - engine, suspension & body identification (i.e. stripes). The Z28 was the only Camaro to be fitted with 15" wheels as standard equipment.

Last updated: 10/20/2011
Author: MadMike Maciolek


© 1997 - 2013 NastyZ28.com (tm)
North Georgia Classic Camaro
All rights reserved