Second Generation Camaro Owners Group - Camaro Wiring and Electrical Information

The electrical system is critical to your cars operation. It might seem like a complex and confusing mess, but if you approach this logically and use the sites wiring diagrams you'll be able to understand what's going on. Old harnesses are often hacked up, frayed or brittle. Previous owners generally hack into a harness to install radios or other electrical equipment. Wires in the engine bay melt or become brittle. You might peek under your dash and see that rats have chewed everything up, or you've had (or will have) a fire soon because of the condition of your wiring. In some cases it's easier to replace the wiring harness with a new one. Inspect what you have 1st before throwing money around or rewiring your car.
Jump to: Battery | Charging System | Wiper System | Optional & Misc circuits | Radio Equipment
Camaro Wiring Diagrams
Misc Notes:
1970 - 1972 - used an externally regulated alternator (generator) with a voltage regulator.
Split plastic wire conduit debuted in 1973. Prior to this wiring was wrapped in electrical tape or some cloth type tape.
1981 - Only year with an ECM (computer) installed.
EVERYTHING YOU EVER NEEDED (WANTED) to know about wiper systems: Hidden Wiper Tech (PDF)
Subsection Details: Basic Electrical Info | Components & Descriptions | Troubleshooting Help
Note: The troubleshooting help link will send you to the Second Generation Camaro Owners Group message board troubleshooting section. This is intended for Second Gen Camaro info only. You can find or ask relavent information about your particular problem there.
WARNING: ALWAYS ALWAYS DISCONNECT THE NEGATIVE TERMINAL BEFORE PLAYING WITH THE WIRING SYSTEM. Failure to do so will require you to quickly learn where the fusable link is located and how to replace it. Also some circuits aren't fused. If you screw up, you will have a fire.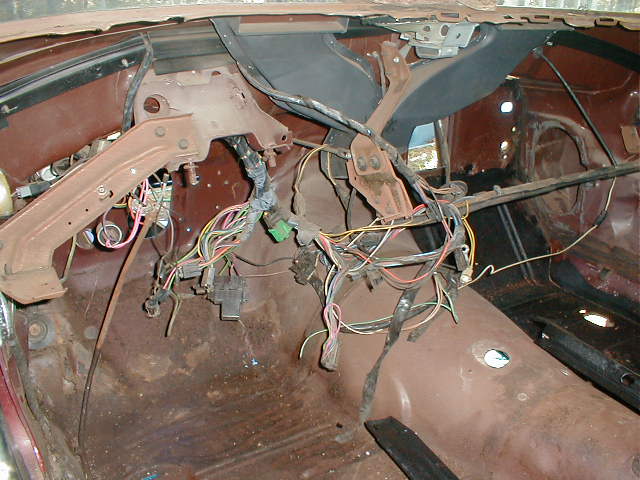 Here's the wiring in my 1974 Z28. Not bad for being 33 years old. This is a complete disaster. It will all be removed and replaced completely with new factory replacement wiring.

General Wiring & Electrical Information
The key to understanding the wiring system is using the sites wiring diagrams, then carefully tracing your wiring and comparing it to the diagram(s). You'll be able to understand what each wire looks like, where it goes and what it's supposed to do. Wires are identified by size, color and circuit number.
To make life easier, the electrical system is broken into various circuits, harnesses or assemblies depending on what specific equipment your car has. These harnesses usually consist of:
Major Harnesses

Under Dash wiring harnesses
Engine Wiring harnesses
Front Light Harness
Rear Body Light Harness

Circuits/Systems

Starting
Charging
Ignition
Lighting
Accessories
The main junction for these is the fuse block located on the firewall. It's by your left foot when sitting in the drivers seat.
The rear wiring comes out of the fuse block and runs down the driver side rocker panel. It's covered by the sill plate and routed over the wheelhouse and into the trunk. Then there is a connector which plugs into the actual rear light harness.
All 2nd gen Camaro batterys were side mount styles. Batterys up until 1975 had caps and required maintenance. Standard battery was an R79, with optional being R89. The Delco Freedom sealed battery debuts in 1976.

The 6-cylinder battery was rated at 2300 watts - 45 amps.
Standard V8 battery was rated at 2900 watts - 61 amps.
The Heavy Duty battery is rated at 4000 watts - 80 amps.

RPO's are T59 (conventional battery),
Heavy Duty battery: T60 (1970 - 1973), UA1 (1974 - 1981)
Cars with Air Conditioning would have the Heavy Duty battery option included.

Major Optional Components, Systems & Assemblies

Optional Electrical Components
Air Conditioning (C60)
Radio Equipment (U**)
Power Windows (A31)
Power Locks (AU3)
Wiper System - Wipers, Standard, & delay/pulse. (C24, CD4).
Defroster (C50)


Minor Assemblies
U14 Gauge Cluster/Special Instrumentation
Dash instrument cluster harness
Tachometer harness.


Console wiring harness
Glove box light harness
Door jamb courtesy light harness
Trunk light assembly
TCS Switch Harness
Heater Harness
Fuel Sender harness
Horns
Lights
K76 Heavy Duty Alternator/Heavy duty battery
My CLOCK (U35) sucks/is broken.
ZQ2 Operating Convenience Group (Includes U35, D35, C50)
ZJ9 Auxiliary Lighting Group - Includes Courtesy lights, glove box light, luggage light, underhood light and ash tray light.
Z23 Interior Accent Group

Differences.... how-to's....RPO's, Power requirements, fuses.

Basic Troubleshooting & Testing
To get basic troubleshooting and diagnostic information, see the ELECTRICAL section of our clubs forum.
In most cases, it'll be ASSUMED you know how to perform basic electrical system diagnosis.

diagnostic & isolating problems
Most common problems are caused by a poor ground or a short circuit. Burnt out bulbs can also cause other bulbs to go out or become dim.
Testing switches: Headlight switch
Refurbishing old wiring
Inspect the wiring for damage. Clean the wiring. Keep things nice & tidy. Tie wrap wires. Route the wires away from sources of heat or brackets that can rub into the insulation and cause a short.

Last updated: 7/29/2011
Author: MadMike Maciolek


© 1997 - 2013 NastyZ28.com (tm)
North Georgia Classic Camaro
All rights reserved