Second Generation Camaro Owners Group - Camaro Headliner & Interior Trim

Headliners come in several styles, early "cut&sew"/bow type, or later perforated vinyl. Some custom interiors had cloth headliners. With the perforated vinal style, eventually the foam backing will become brittle and disintegrate causing the headliner material to start dropping down off the backing board. In some cases, hard use or neglect will require replacement.
| | |
| --- | --- |
| | |
| Replacing a headliner in a 1974 Z28. | |
Related Components: Sun Visors | Dome Light | Seat belts | Rear View Mirror | Roof Trim/Molding
Headliner Types
1970 - early 73 used a "Bow Style" or "cut & sew" style headliner. This style is a cloth material with steel bows inserted to provide support. The steel bows are then snapped into plastic tabs that are slid into the roof. All Second Generation Camaro roofs are designed to accept the plastic tabs, so you can install this style headliner into any 2nd gen. In fact, it's sometimes necessary if you can't obtain a later style backing board.
In mid 1973 a hard particle backing board with perforated vinal covering was used. In 1974 retractible seatbelts were anchored in the roof requiring cut outs in the backing board.
WARNING: The headliner board is often times brittle and will easily crack when you try and remove it. It's also not available on the restoration market so you need to be very careful to not damage your current backing board.
How to replace a Perforated vinal style headliner.
Remove headliner. har har.... without breaking it. View: Headliner before | during replacement | almost done.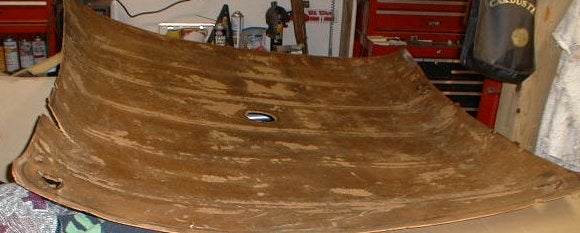 Above: A headliner board being prepared to have a new covering installed on it.
Interior Trim & Headliner Molding
Due to the shape of the rear window, 1970 to 1974 sail panels will interchange. 1975 - 1981 sail panels interchange. You must use the correct sail panel depending on which rear window you have. Note: the 1970 - 74 style sail panels aren't available on the restoration market.
Some other differences i
A-Pillar trim: 1970 to 1972 differ from the 1973 - 81 style. The later style is designed with some impact absorbing qualities to it. The early style is flat steel, simply designed to cover the a-pillar.
Upper window headliner trim. These items correspond with the a-pillar as they insert into each other. The 73+ style upper window trim is plastic. The previous style is steel. The front and rear headliner trim is steel.
Removing/Installing:
Sail Panels
There's an order in which things need to be installed. Installing one thing could require you to remove that part, to install a part that should have been installed before that part.
Note: Ya, I know you can install some items "out of this order", but life is so much easier if you do things this way. Also, you reduce the risk of breaking things if you follow this procedure.
If the headliner is installed, along with the trim,
Tip, the upper sail panel has a tab that must slide underneath the rear glass molding, and there's a front tab that slides underneath the window roof edge molding. You need to loosen up the roof molding so you can slide these tabs into place (without breaking them).
Other than these items,
Rear View Mirror: The rearview mirror is a 10" lense bonded to the windshield. Cars built prior to January 1, 1972 had stainless steel backs, but this had a tendancy to blind or distract oncoming drivers so it was replaced with non-reflective black backing. There are legal issues with putting a stainless mirror on a car which didn't originally come with a stainless mirror.
Mirrors can fall apart in various ways. Probably the easiest way to fix the mirror is to replace it.
The mirror slides over a steel base which is bonded to the windshield. It is then secured in place via a hex head jamb nut. You need to use a hex-key to remove this nut so you can slide the mirror off the base.
Package Tray
Standard Rear Shelf: Correct color matched vinal to match original interior, correct weight cardboard for proper thickness.
Deluxe Mesh Rear Seat Shelf: Correct color matched vinal to match original interior, includes built in 6" x 9" speaker opening area. Eliminates the need for external speaker grills.
Package Tray jute padding: Eliminates noise and helps insulate the trunk.
Rear seat to trunk partition: Installs behind the rear seat and insulates between the trunk and interior.

Last updated: 11/10/2011
Author: MadMike Maciolek


© 1997 - 2013 NastyZ28.com (tm)
North Georgia Classic Camaro
All rights reserved