As seen in: "Car Craft" (1/2000), "Super Chevy" (5/2001) & Featured on WS Radio (6/22/2002)
Get your: Club T-Shirt | Club Calendar | Premium Membership
Camaro info by Year : 1970 | 1971 | 1972 | 1973 | 1974 | 1975 | 1976 | 1977 | 1978 | 1979 | 1980 | 1981 | Restoration Guide

You've just entered the largest and most complete source of Second Generation Camaro information available anywhere. This site contains the Second Generation Camaro Restoration Guide and is the home of the Second Generation Camaro Owners Group, the largest Camaro Club dedicated to this car. Joining is free.
You can spend weeks, months or even years here, however things are set up so that you should be able to quickly find what you need. This information includes: statistics & info on VIN, chassis, engine, transmission, axle decoding, production information including options, colors, fabric types, pictures, price guides, performance improvements, in-depth restoration information and procedures, Exploded parts diagrams, pictorial depictions and examples of components, wiring diagrams, tune up specifications.... Some information is grouped by year. Some is grouped by component.

Beginning in 2005, much of our site content & stand-alone features were integrated into or wrapped around the Message forum. In 2010 I've altered the site to more prominently feature our technical information, while leaving some of the integrated functions. Functions that are integrated are: The "membership", events calendar, photo gallery, chat forum & swapmeet.

About the 2GCOG/Second Generation Camaro Club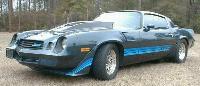 The Second Generation Camaro Owners Group (2GCOG) is a loose knit group of guys and gals who share a common bond - ownership of (or interest in) the 1970 - 1981 (Second Generation) Camaro. Founded in 1998 by Rod Stallings of Dallas Texas and MadMike (me) of Dawsonville Georgia it is currently internet based only. We try and meet as a group at various events around the country. There are no fees or dues for joining. Then again, you get what you pay for - so, as time permits the newsletter, technical articles, featured cars and membership gets updated.

You do NOT need to be a member to view any of this stuff. If you wish to PARTICIPATE on the message board, you must subscribe via membership. This is FREE.
We now offer an optional enhanced/premium membership package in which for a modest one time fee, you recieve some pretty neat club items & functions.
Related info: Site News | Group Projects | Site Credits
Major features of the group are highlighted below, along with a brief description.
The Second Generation Camaro Message Board - This message board, chartered under the Second Generation Camaro Owners Group, is very active and contains a wealth of Second Generation Camaro information and discussion. Please feel free to participate or use it (via the "SEARCH" function) to get answers to your SECOND GENERATION CAMARO questions. It's monitored by various people who pay attention to what's going on. Poor language or "bad netiquette" is not tolerated. There are several other boards which cater to (either on purpose, or accidentally) to 1st, 3rd and 4th generation camaros, so discussion of those cars specifically is not welcomed on this message board.
The message board also contains the swapmeet. Note: This is to be used for non-commercial purposes.
The Performance Gallery is obsolete. It is left for historical and informative purposes.
This page you're viewing was our main entry page from 2001 until 2005.



Second Generation Camaro Owners Group Message Board

Founding Editor: Rod Stallings
Co-founders/Publisher/Editor: MadMike & Wes Stegmiller
Feature Car Editor: C-man
Message Board Admins: Lowend (aka "The King"), MikeM79
Graphics by: lots-a-people
Site Credits
Updated: 11/25/2005

© 1997 - 2014 North Georgia Classic Camaro. (tm)
All rights reserved


Our website is a comprehensive collection of material. Material contained in here may be reproduced for PERSONAL USE ONLY. No material may be redistributed in electronic or printed form without the written permission of the webmaster . We believe to the best of our knowledge this information to be correct, however no warranty is made as to its accuracy. Authors also disclaim any liability for financial loss, property damage or injury in connection with use of this information. Not affiliated with, endorsed or compensated by Chevrolet, or any sanctioning body mentioned within. Any trademarked names are property of their respective trademark holder and are used for identification purposes only. Portions of this website may be copyrighted by other individuals or organizations.