Last Update: Apr 03, 2015 - added pics of headlight areas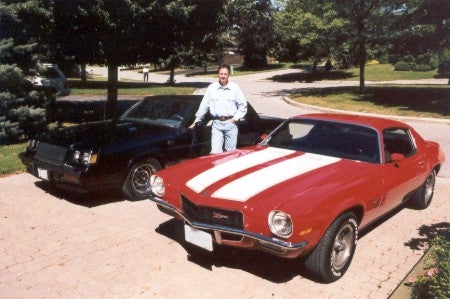 Orig factory GM front sheet metal
If you installed a new rear tail light panel and don't want to drill holes into it but still want the rear fangs to look like they are bolted,
you can cut the threads shorter and use adhesive to mount the nut onto the mounting hole.
Early 1970 LA Z28's had short front and rear stripes. Yes, believe it. The original owner spoke to the current owner about his Z28.
Front and rear bumper cushions
GM Trunk Weather strip
Trunk Wire Clips (2)
Door Weather-strip Front and Rear Screws and Plastic Push ins with ribs to stay locked in the hole
One is on the front and the other is on the rear. The rest of the weather-strip is held in with the plastic push in pins like this ┴ .
The thread length is 1/2" and the diameter of the threads (widest part) is 4.04mm or .159".
Red Oxide Under Body Primer (Norwood Cars)
Front and Side Glass
Windshield Antenna
Hood Spring Orientation
Hood Jam Nuts L - C - R
Mud flap clips. I lost the original lock covers so now I just take a piece of hot glue stick
and cut a piece off , heat up a small slotted screwdriver tip and make a slit. in it.