| | | |
| --- | --- | --- |
| | | RPO CC1 Removable glass top roof |

General Description:
RPO CC1 (removable glass tops) was introduced as a factory option in 1978. The convertible had been dropped after 1969. Several 1/2 assed attempts to go topless were tryed over the years and the aftermarket was readily available to retrofit sunroofs, glass hatchs and even convert coupes into convertibles, so in response to this demand, Chevy (GM - the firebird got T-Tops in 1977) decided to offer a factory t-top option.
The 1st design of this hatch is called the Hurst Hatch (early 1978). The Second and more common design is the "Fisher Body" hatch (1978 - 1981). Any car that got a FACTORY INSTALLED T-Top will be marked CC1 on the cowl tag.
Ordering T-Tops would require a compact spare tire. A stowage bag for each top was also provided.
MSRP for CC1 ran from $625 to $695.
Structural integrity. - The roof is a structural component of the car, and by having T-Tops installed a large part of the structure is gone. No additional bracing or reinforcing was done when a car got tops. Over time, the car will eventually form cracks behind the rear door (among other tell-tale hints as to the car's folding up). Due to this many owners will install subframe connectors to keep the car ridged. Another common problem with T-Tops, or any roof job is water leakage.
Aftermarket roof-jobs. It wasn't uncommon in the 70's to see places that installed sunroofs and other fancy options. During this time was the van craze was also happening. Some dealers would farm sunroof & T-top installation out as an option. This is not a factory option. Due to the wide variety of aftermarket installations, I don't have any information about whatever happened to your car after the factory built it. By far the most common aftermarket installation would be the "C&C" t-tops. That company is now defunct.
It is not unheard of for people to graft a T-top roof onto an early Camaro.
Component view & Key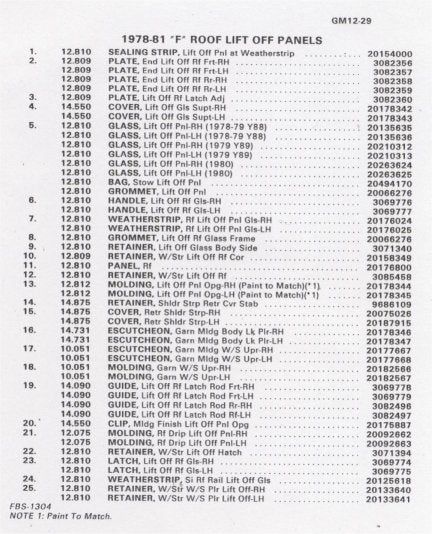 Last updated: 1/29/2004
Author: MadMike Maciolek


© 1997 - 2012 NastyZ28.com (tm)
North Georgia Classic Camaro
Exploded diagram (c) General Motors, for information only
All rights reserved