| | |
| --- | --- |
| KeysZ | 03-27-2011 01:28:20 AM |
---
73 Sway bar end bracket size

I am rebuilding the rear suspension parts for my 73Z. I ordered new GM rubber bushings for the shock/spring end mount sway bar bracket. The new rubber bushing is considerably thinner and taller (by half to three quarters of an inch) than the brackets that were on the car. It doesn't seem to me the rubber bushing should crush this much? Did someone replace these brackets at some point before I bought the car? Does anyone have a height/width measurement of a stock 73 sway bar end bracket? Any info appreciated.Thanks!
| | |
| --- | --- |
| INSPECTOR57 | 03-28-2011 03:26:57 PM |
---
Sounds like they may have sold you the frame bushings for the FRONT sway bar. What # did you order? The AIM manual shows #480913 (#7 in pic) which is still a good # at gmpartsdirect.com.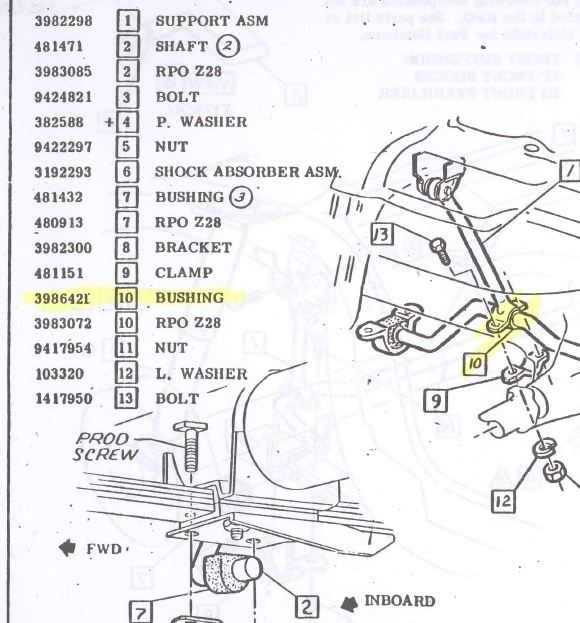 Gary
| | |
| --- | --- |
| KeysZ | 03-29-2011 12:42:36 AM |
---
Thanks for the reply. Yes the part number on the paper in the part bags matches that number. These were purchased from the catalog sales place in Ocala Fl. (Not sure about posting names) They were obviously bought from GM dealers and just repackaged then sold to me, which is fine. The measurements of the bushings are as follows: Measuring from the flat to the top of the curve = 2 1/4 inch, the width = 1 3/8 inch. The brackets that were on the car are: from the flat to the top of the curve = 1 11/16, the width = 1 11/16. So they could squash to get to 1 11/16 I guess, but the width is so different I have to wonder which is wrong? So I was hoping someone had a known GM set they could measure.
| | |
| --- | --- |
| KeysZ | 04-02-2011 01:43:56 AM |
---
Anybody with one of these out of the car they could measure real quick?
All times are GMT -4. The time now is

06:34:22 AM

.
Powered by vBulletin Version 3.5.0
Copyright ©2000 - 2013, Jelsoft Enterprises Ltd.