Second Generation Camaro Owners Group - Camaro Exterior Light Assemblies

The exterior lighting on the Camaro consists of several assemblies, the front headlights & parking lamps, the rear tail lights, and running lights (also called side markers). Additional lighting is included in the trunk and interior, but that's discussed in the interior section of this guide. The Second Generation Camaro light assemblies underwent several revisions over the years.
Front Light Bezels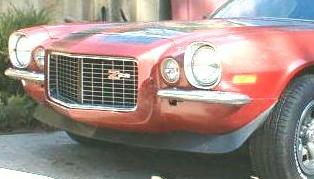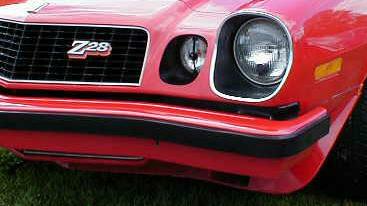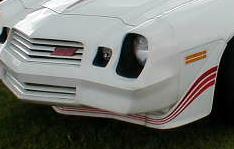 1970 - 73: Chrome headlight bezels
1974 - 77: Pot metal "sugar scoop" headlight bezel | exploded view
1978 - 81: ABS plastic bezel | exploded view

1970 - 73 headlight bezels are identical for standard or Rally Sport models. The sugar scoop bezels are usually all brushed aluminum. It's not uncommon to paint the inner bezel (as depicted above) to simulate the 1977 Z28 appearance or the mid 70's Rally Sport paint package. The 1978+ Z28 style bezel is black ABS plastic. The standard Camaro got a chrome plated plastic bezel. The headlight is a sealed beam, low & high intensity unit. Halogen headlights (RPO TR4) debuted in 1981.

Parking lights. Obviously the parking lights are different between the 1970 - 73 Rally Sport and standard Camaro. If the car is equipped with the Z21 "Style Trim Group" option there is a thin bead of chrome around the banana parking lense. In later years, this option included a "bullet" on the parking lense (as depicted above). This bullet is a separate piece of chromed plastic from 74 - 77. In 1978+ it's attached to the lense.

Front marker: Notice the amber front marker lights are identical (thus interchangable) from 1970 to 1977. The 1970 wiring harness will not flash the side marker when the turn signal is activated. This function was added in 1971. The front marker light changed in 1978.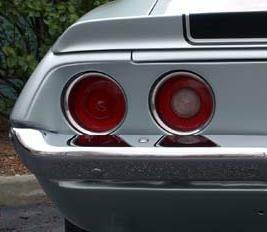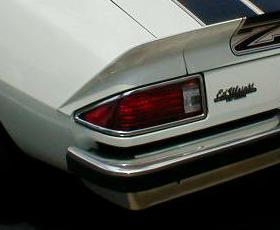 1970 - 73: Round tail light lenses | w/Z21 Style Trim
1974 - 77: Teardrop tail lamp assembly | exploded view
1978 - 81: tri-color tail lamp assembly | exploded view

Related components: Wiring harnesses | Molding

Lights FAQ
Differences, what fits, what's technically correct. How to fix busted lights. How to test lights? (bad ground usually). Halogen euro lamps and export.

Exploded Diagrams of Light Assemblies
(yo- missing 70-73 f&r)

Last updated: 10/20/2011
Author: MadMike Maciolek


© 1997 - 2013 NastyZ28.com (tm)
North Georgia Classic Camaro
All rights reserved
Exploded diagrams courtesy of GM Parts & Illustration Manual