Second Generation Camaro Owners Group - Front End Sheet Metal & Hardware

The assemblies we're dealing with in this section are front end sheet metal. Fenders, core supports, inner fenders, hoods, installation hardware (bolts). These items are defined as "bolt on" items and are forward of the cowl/windshield section.
Section Repairs: Hood | Fenders | Buying sheet metal
Related Components: Bumpers | Headlight assemblies | Emblems | Molding & Trim | different 70-73 noses?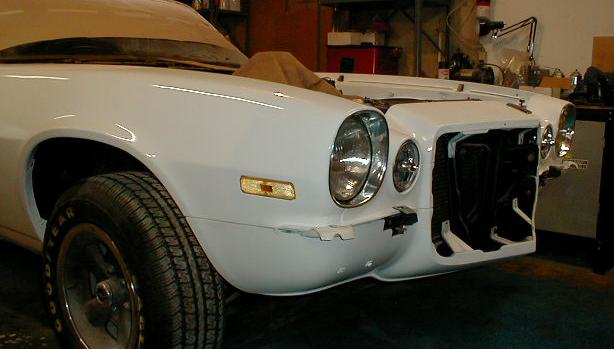 Exploded Diagrams of Camaro Front End Sheet metal.

1973 is typical of the above, but with more reinforcement to meet federal safety standards for that year. I'll try and detail the differences....
Hood Information .
Technically, ANY 1970 to 1981 Camaro hood will interchange. They're basically all the same. Some hoods have insulation on them to shield against engine heat and noise. There are hints as to the hoods vintage by the reinforcing structure shape under the hood, but that doesn't affect hood fitment.
Cowl Hoods:
The 1978 & 1979 Z28 had decorative (non-functional) "hood scoops" on them.
The 1980 & 1981 Z28 had a functional cowl induction hood. This was the only functional cowl hood offered on the Second Generation Camaro.
1980/81 Z28 Air Induction Hood - exploded diagram.

The 1977 Z28 had a big hood decal laid on it.
There are no emblems fitted to any hood.
A hood which has a chrome molding on the rear edge signifys the hood was on a car that had the Z21 style trim option. This molding is slid over the rear of the hood and is held in place by friction.
Fender Information .
The 1970 to 1977 Camaros share the same fender.
The 1978 to 1981 Fenders are the same with the exception that Z28 fenders are punched for side scoops or air extractors. This fender uses a separate lower extension bolted to the bottom of it to hold the parking light and close out the bottom of the fender with the nose.
How to remove a fender without going InSaNe.....
Core Support Information .
There are 3 major core supports used on the second generation camaro.
1970 - 1973
1974 - 1977
1978 - 1981
The core support holds the radiator in a trougth. The core support will hold any stock radiator regardless of which radiator came with the car. The opening on the standard core support isn't always cut out for the largest radiator but you can see where that opening is punched. Normally cars with the large radiator (heavy duty cooling or Air Conditioning) have the radiator opening completely cut out.
The 1978+ style core support is essentially the same as the 1974+ style except it has additional provisions welded to it to retain the new fender design. If you unweld or remove these brackets/tabs you will suddenly had a "1974" style core support. In otherwords, you can fall backwards (to 1974), but you can't move forwards in interchangability.

Last updated: 10/20/2011
Author: MadMike Maciolek


© 1997 - 2013 NastyZ28.com (tm)
North Georgia Classic Camaro
All rights reserved
Exploded diagrams courtesy of GM Parts & Illustration Manual