NastyZ28.com
2012 Club Calendar!
The 2012 Calendar has sold out. Thanks for your support & interest.
Submissions for the 2013 calendar will begin in September and will be announced on the forum, as well as via an email notification.

Limited Edition ! Just 400 Copies Will Be Available!
The world's only calendar featuring Second Generation Camaros exclusively. High quality gloss finish, measures 12" x 18" flat ( 12" x 9" folded). The calendar is filled with high quality photos throughout, including everything from pristine show Camaros to High Performance race Camaros and even photos of in-progress restorations.

Each month features a different club member's Second Generation Camaro. The cars were selected by a vote of our membership, so these are the ones everyone loves!!

Perfect for your office, kitchen, garage and anywhere else you want impressive pictures while keeping track of the days.

2012 Calendar - SOLD OUT

Questions or Comments? Send email to webmaster.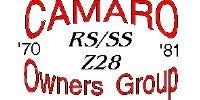 Special Thanks To:

Calendar Design & Production by: Lammy's Designs (Lammy)

This artwork and the Club names are
copyright 1997 - 2012 NastyZ28.com
Second Generation Camaro Owners Group